*


as the capital and cultural hub of the autonomous region of Catalonia,
the city has a long and glorious history of its own.
Catalonia was a leading trading power in the Mediterranean during the 14th and 15th centuries, with enterprising merchants and bankers, and no feudal remnants whatsoever. United with the Kingdom of Aragon in the 12th century, the region became part of Spain in 1469 with the marriage of Ferdinand and Isabella
.
The Barcelona Cathedral, whose original was destroyed in 925 by Al-Mansur. It was then started to be rebuilt in 1046 by Bishop Guislabert and construction has finally been completed at the end of the 19th century
Barcelona now is a beautiful city with beautiful cathedrals and a beautiful boardwalk.
The most memorable places in Barcelona was La Sagrada Familia, Park Guell and La Ramblas...
Sagrada La Familia
The new Cathedral originally designed by Antoni Gaudi (1852 – 1926), who worked on the project for over 40 years, devoting the last 15 years of his life entirely to the endeavor, the project is scheduled to be completed in 2026. On the subject of the extremely long construction period, Gaudí is said to have remarked, "My client is not in a hurry." After Gaudí's death in 1926 work continued
The heart of the city is La Rambla, the wide, main pedestrian-only boulevard stretching from La Placa Catalunya to the harbour.
Street performers, sales people, musicians, foodvendors attract visitors to the city
.
At the port end of La Rambla is the Monument a Colom, a tribute to Christopher Columbus, an Italian actually, who distinguished himself in the service of Spain discovering the New World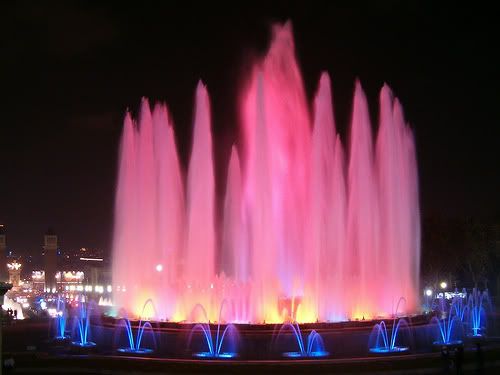 The Magic Fountain, made by Carles Buigas in 1929 on the Universal Exhibition grounds, is a spectacular water ballet with a great play of color , light and music